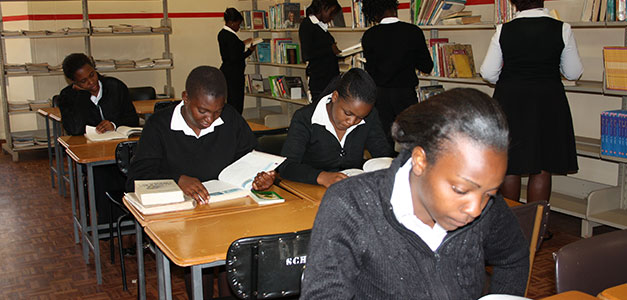 Brief Background
The library is an innovative, inspiring, and integral partner in the scholarly achievements of students, and staff. The Library's mission is to provide comprehensive information resources and services in support of the research, teaching, and learning needs of the school's community. Users are encouraged to seek assistance from Library staff whenever necessary.
Reader Services
It is the department responsible for, admission, circulation, general enquiries, reference, and computer services of the library. Service transactions include the issuing and returning of borrowed material daily.
Registration/Admission
All users must be registered. On first registration users must undergo the orientation programmes where they are taught how to locate library material. Any queries with one's registration should be referred to the librarian on duty.
Circulation Desk
This is an area where checking out and checking in of books is done.
Inquiries
Staff on duty is there to respond to general questions. Staff members are always available to direct users to other areas of the Library as necessary.
Reservations
Patrons can place a hold on any book (from anywhere on the Internet) that is out on loan that they wish to use. Holds can be placed through the Patron Requests facility on this Site. Patron will then be notified by email when their books are ready for collection.
Recalls
The library can request a book borrowed out to return to the library (Urgent need)
Patron Notices
The Library will sent notices to Patrons via email for : - Overdue material - Overdue fines - Holds ready for pickup or that have been cancelled - Recalled items Patrons should, therefore, ensure that they supply the Library with a valid email address upon registration.
Reading Facilities
Space available inside the library is for reading.
Suggestions
Patrons are free to pass their comments and suggestions for the improvement of Library services. This may be done through the Submit A Suggestion facility on this site. These suggestions are reviewed by Library staff regularly.
Librarian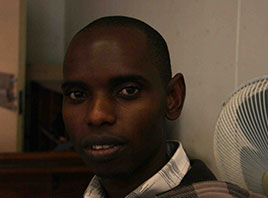 Mr. Togara
Opening Hours
Everyday
Monday – Friday : 0900 - 2100hrs Saturday : 0900 - 1400hrs
Holidays
Closed on Sunday and Public holidays
Technical Services
Bibliographic section responsible for acquisition, cataloguing and classification. It is also responsible data capturing of all the material in the library.
e-Resources
e. catalogues
e-books
e-Journals
e- referencing

e- past exam papers
Rules and Policies
Quick links